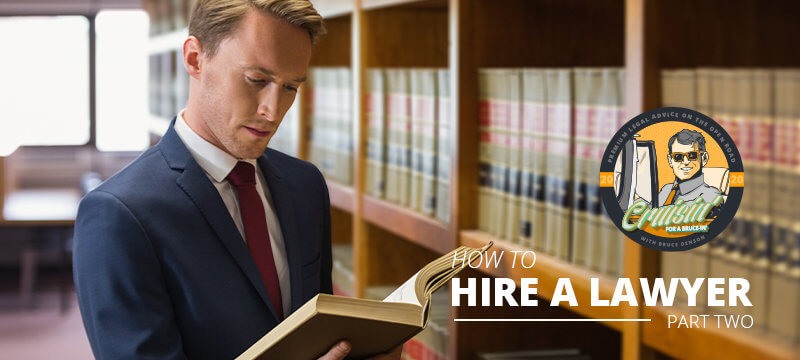 Cruisin' For A Bruce-in: How To Hire A Lawyer Part 2 – Don't Hire A Lawyer Based On Ads
June 3rd, 2020
Bruce Denson
Comments Off

on Cruisin' For A Bruce-in: How To Hire A Lawyer Part 2 – Don't Hire A Lawyer Based On Ads
In Cruisin' For A Bruce-in, we ride along with Florida Attorney Bruce Denson as he gives brief explanations on Florida Law and what to do in common legal situations.
Transcript
Don't hire a lawyer based on websites, advertising, or online reviews. There's a lot of good information on the Internet. There's a lot of bad information on the Internet.
There are good attorneys that advertise. There are bad attorneys that advertise. And sometimes it's hard to tell the difference between the two. So, what do you do?
First off, do a little research on the Internet. Take a look around if someone's getting consistently bad reviews. You know that's a person to avoid. If they're good and good reviews, it's a person you should consider.
Second, you might want to look for a referral. Talk to maybe another attorney in town. Good attorneys in real estate know good criminal defense attorneys. Good business lawyers know good criminal defense attorneys. So while it may be a little embarrassing, don't hesitate to ask another attorney for a referral. And then you have to go sit down with the person, talk to them, and see if it's the right fit for you.
Further Thoughts
The Internet is a powerful tool that you can leverage to help choose and attorney – but it shouldn't be the only method. One of the most important aspects of being a good attorney is reputation, and good attorneys often have good reputations and are seen in a good light by other attorneys.
Asking those in the legal community for advice is ideal when searching for a lawyer and can help you properly understand the market for lawyers and choose one that is best for you. Lastly, when speaking to a lawyer – make sure they are a good fit. Ask the hard questions. If you're getting soft, everything will be fine responses – that can be a bad sign. A good lawyer understands the consequences of crimes and wants their clients to understand them as well – so be sure to hire a lawyer who's not afraid to tell you the truth.
If you or a loved one have been arrested, we can help. Contact The Denson Firm immediately for a Free Consultation.
Need to know what to do after an arrest? Our Criminal Defense Process is designed specifically to help our client's in their long-term interests and immediate concerns.
Need help with another legal issue? We offer a wide variety of legal services to help those who are in need.